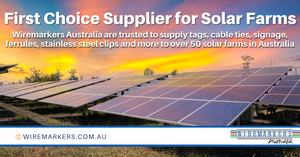 First Choice Supplier for Solar Farms
When it comes to supplying solar farms with vital production and construction components, speed, quality and service all factor in. Wiremarkers Australia takes pride in having the fastest dispatch time in Australia, staff who know the industry, and products that outlast and outperform others on the market.
Wiremarkers Australia has now supplied more than 50 Australian solar farms with various components including stainless steel cable ties, tags, signage, ferrules, stainless steel clips, stainless and aluminium plates, traffolyte/acrylic labels, arc and danger labels, vinyl printers and a range of other components. 
These solar farm customers know they will get great service from Wiremarkers, and that their orders will be delivered quickly. They also recognise the quality and innovation that Wiremarkers Australia is known for. 
Traditional solar clips have a tendency to damage the cable they're holding in place. This was unacceptable to the developers at Wiremarkers so they set about creating a clip of superior quality. Wiremarkers Australia General Manager, Jarryd Crampton, explains what makes their 4 wire clip so special.
"We were able to design and create the first utility solar clips to reach Australia which were guaranteed to reduce the chance of cable damage," he said. "We also gave the clips a wider base for a more secure hold and use 304 hardened steel that is ISO9001 quality tested to remain strong for more than 30 years. The design is so popular we're actually seeing imitations creep into the market."
Creating Time Savings
Jarryd said having production based in Australia is what gives them an edge when it comes to speed of delivery. 
"We print all our tags in our workshop in Brisbane, which means they are created, dispatched and delivered to site much faster than those made overseas and are guaranteed as ISO9001 Quality Certified," said Jarryd. 
With speed and efficiency so important to the solar industry, using clips that won't create further work through failure is important. The Wiremarkers 4 and 2 wire clips are 37 per cent faster to use than traditional cable ties due to their ease of use. Its reliability and strength mean jobs don't need to be unnecessarily repeated.
Procurement managers at solar farms are able to reduce friction in delivery by sourcing a wide range of components from Wiremarkers including PVC tags, ferrules and cable ties. The Wiremarkers cable ties are available in both nylon and stainless, with the stainless ties having a lifetime in excess of 30 years.
Walking the Talk
Renewable energy is of particular interest to Jarryd and the Wiremarkers Australia team as they continually work towards a more renewable society.
"We've installed solar panels on our Queensland workshop making the facility 100 per cent renewable. We're committed to increasing our own renewable energy capacity as we grow, and we'll continue to contribute to the industry through innovation of our products," said Jarryd.
Wiremarkers Australia has managed to maintain their high level of service throughout various lockdowns around the country. While adapting to new rules and creating a COVID-safe workplace, their commitment to delivering what their customers need has not wavered. This commitment to service has only enhanced their popularity within the solar industry.