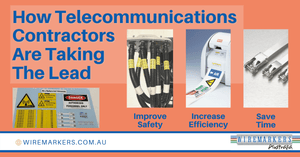 How Telecommunications Contractors Are Taking The Lead
Telecommunication installation is showing no signs of slowing down in Australia. In a competitive contractor industry, efficiency across the entire installation process is essential, and those in the know are making use of new tools and technology to minimise their time on site. 
Immediate On-Site Vinyl Labels
The use of vinyl labels in telecommunications is widespread, but as all contractors know, not all labels are created equal. The MAX CPM100 Bepop thermal transfer desktop printer is specified by Optus, Telstra and Vodafone to use for all vinyl labels. This means all required labels can be printed on-site and immediately, eliminating the need to outsource labels. Also eliminated are the associated issues that come with outsourcing label printing, such as delivery delays, overlooked printing errors and lost orders.
MAX Printers are market leaders in thermal transfer printers and the two desktop models available in Australia are proving popular with telecommunications contractors due to their versatility and ease of use. 
These printers, available exclusively from Wiremarkers Australia, have the capacity to print over 16,000 different colour variations using CMYK ribbons. They print in 400 DPI resolution at 25mm per second, with a 125mm per second cut speed. The desktop printers use a USB connection, have ethernet ports, and use a normal plug socket for power. They come with thousands of premade templates, plus the ability to upload and print your own designs. 
Of particular benefit to those in the telecommunications industry is that the printers can be used for a range of labels including Coaxial & Hybrid Labels, Wrap Around Labels, RF (Radio Frequency) Warning Labels, Feeder Labels, Danger Labels, and many more.
The time saved and increased productivity generated from the ability to print all vinyl labels on-site has made a big impact on those working in the industry. 
Other Efficiency Measures in Telecommunications
Wiremarkers Australia are always on the lookout to develop products that save time, improve safety or increase efficiency for their customers. Along with MAX thermal desktop printers, telecommunication contractors are taking advantage of other innovations offered by Wiremarkers Australia.
The Smart Ratchet, a tie developed exclusively by the Wiremarkers Smartmark team, can be used in place of stainless strapping. It holds securely, has a 50kVA rating, reduces time on site and requires no tools to attach.
Compared to traditional strapping methods, the Smart Ratchet is installed on average 30 per cent faster. Made from reinforced 304 stainless steel and available in a variety of sizes, it's proving to be a popular addition on telecommunication worksites.
More information about the products mentioned in this article is available on the links below, or contact the team at Wiremarkers Australia to discuss your needs.