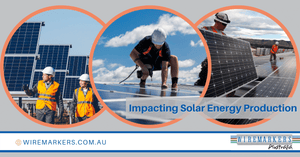 Impacting Solar Energy Production
The future of our environment has always been important to the Wiremarkers Australia team. Solar energy forms a vital part of global sustainability, and Wiremarkers take pride in supplying a number of items to this industry.
Australia knows solar will form a big part of our energy consumption in the future, and our solar farms need to be built to last. Specifications dictate that certain components of solar farms require a lifetime of at least 30 years, and Wiremarkers ensure their products meet or exceed these standards.
Wiremarkers products have long been popular with the solar industry, in large part due to the combination of innovation and quality that is synonymous with Wiremarkers.
General Manager of Wiremarkers Australia, Jarryd Crampton, says supporting the construction and expansion of solar farms is important to the team.
"We've watched as renewable energy has taken hold in Australia. Seeing the need our solar customers had for not just great products and fast service, but recognising where innovations can actually improve the efficiency of construction is really rewarding. This is where the real savings are made for our clients," said Jarryd.
Smarter Solar Products
One such innovative product developed by Wiremarkers is their unique take on solar clips. Their 4 wire clip includes features such as beveled edges to reduce the chance of cable damage, a wider base for a more secure hold, and is made from grade 304 hardened steel that is ISO9001 quality tested to remain strong for more than 30 years.
Their Solar Stainless Tags also have a lifetime of more than 30 years, making them an obvious choice for use on new solar farms. These are all printed and shipped from the Wiremarkers workshop in Queensland, meaning delivery is fast and reliable. Most importantly, a team member is always available to discuss your requirements and make sure you get exactly what you need.
Reducing friction for solar farm procurement managers, Wiremarkers also stock PVC tags, ferrules and cables ties, allowing for fulfilment of a wide variety of required components. The Wiremarkers cable ties are available in both nylon and stainless, with the stainless ties having a lifetime in excess of 30 years.
Contributing to Change
Along with supplying high-quality labels, tags and other consumables to the solar industry, Wiremarkers Australia have made their own facility 100 per cent renewable, with the installation of solar panels on their Queensland workshop.
Jarryd explained that as the business continues to grow, their focus on renewable energy and a sustainable environment will not waver.
"The solar panels on our workshop roof provide enough energy to cover all of our current operations. As we grow, we're committed to increasing our renewable energy capacity to remain 100 per cent renewable," said Jarryd.