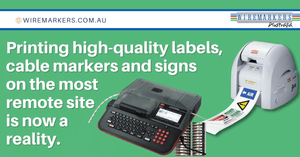 Label, Sign and Cable Marking Portable Printers
Imagine being able to create and print high-quality signs, labels and cable markers on-site and instantly. Wiremarkers Australia is making that possible. 
Waiting for delivery, or worse still, finding incorrect orders of cable markers, ferrules, signs, and labels is incredibly frustrating. Two portable MAX printers available from Wiremarkers Australia combine to provide marking solutions for wires and panels, meaning almost all signs and labels needed on-site can be created instantly.
Tube and Tape Printing
The solution to tube and tape printing comes in the form of the LM-550A Ferrule, Tube and Heatshrink Printer. This printer is adaptable to a range of cable marking needs, and can print on PVC tubes sized between 1.5mm and 8mm, heat shrinkable tubes sized between 2mm and 6.5mm, 5mm, 9mm, or 12mm wide tapes, and ID Ferrule 4mm & 10mm Plates. Printing options include both horizontal and vertical text.
The LM-550A Printer is popular in a range of industries that require accurate cable marking, such as switchboard manufacturers, and mine sites to enable immediate and precise labelling of wires, terminals, and switches.
It's quick and simple to use, with input methods including USB transfer, PC connection or direct entry using the inbuilt keyboard. It has an impressive print speed of 40mm per second, and individual tubes are half-cut to keep them in order and ensure easy use.
Find out more about the LM-550A Ferrule, Tube and Heatshrink Printer here
Sign and Label Printing
From hazard labels to information signs, and anything in between, the Bepop Thermal Transfer Printer is proving to be an asset to many workplaces. The printer has the capacity to print over 16,000 different colour variations with 400 DPI resolution. 
The adhesive vinyl labels can be printed and cut to any shape (up to 100mm high by 2000mm long), and are printed at an efficient 25mm per second, with a 125mm per second cut speed.
This printer allows you to plug and print your own design, or choose from thousands of premade templates.
Find out more about the MAX Bepop printer here.
Your Label Needs Covered
Any workplace with a switchboard or multiple wires will know the benefits of well-labelled cables and identification of hazards. While they may appreciate the convenience of instant printing for one-off marking, the LM-550A Printer is essential when this type of marking forms part of daily tasks. Mine sites are the perfect example of when the quality and convenience of a portable ferrule and tube printer makes all the difference.
The versatility of the Bepop Printer means it has a range of uses in numerous workplaces. Full colour vinyl adhesive labels are seen everywhere, and the ability to make custom signs instantly is a popular choice for a wide range of businesses.
For more information about portable printers for signs, labels, and cable markers, visit wiremarkers.com.au or get in touch with the team to discuss your needs.