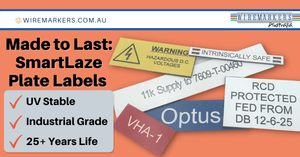 Made to Last: SmartLaze Plate Labels 
Wiremarkers Australia has taken standard acrylic signs and labels and redeveloped them to their own high standard to ensure they are industrial grade, possess an extreme UV tolerance and have a design life of 25 to 30 years. 
Traffolyte labels are popular for all types of labelling use, but Wiremarkers Australia's exclusive SmartLaze takes this durability to new heights. 
As expected with regular Traffolyte labels, SmartLaze labels are available in a range of colours. In keeping with Wiremarkers' insistence on superior quality, SmartLaze labels are UV stable and tested to ISO 4892-2 standard, guaranteeing they will hold up under harsh weather conditions. 
SmartLaze labels are suitable for any outdoor or long-term use and are popular in a number of industries, including construction, mining, education and health. They are made up of several layers of high-quality acrylic which is then carved and cut using lasers to create impactful labels. It's the different colours of these layers that create the contrast in the signage when engraved. 
Wiremarkers Australia makes SmartLaze labels on-site in their Brisbane workshop and can customise the design to your requirements. Using their CO2 lasers, they can precisely create the size and shape you need, including custom cutouts for switches, dials or as design features. 
General Manager of Wiremarkers Australia, Jarryd Crampton, said the features and benefits of SmartLaze labels have made them popular across various sectors.
"Because of the complete flexibility with the design of these labels, and their superior quality over others on the market, they are suitable for a range of businesses. We've made labels for use in schools, hospitals, mine sites and solar farms, just to name a few," said Jarryd.
The Australian-based team at Wiremarkers are on-hand to assist with designing signs and labels if needed, and their commitment to understanding the needs of the industries they service means they know what standards and specifications must be met. 
Through the custom-creation of SmartLaze labels, multiple design elements can be featured, allowing for a logo to be included, along with several fonts and styles in a range of popular colours. 
Of course, often customers know exactly what they need. When this is the case, labels can be ordered by providing an editable PDF or spreadsheet containing the required information.
To see the superior quality of SmartLaze labels for yourself, get in touch with the Wiremarkers Australia team to discuss your needs.