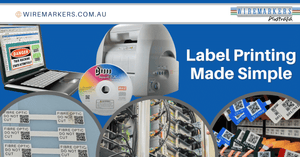 Software Making Label Printing Simple
A small but important part of the cable installation and the fibre optic world is clear and accurate marking of cables. For a task that is done so many times a day, it makes sense to use the best and most convenient label printer on the market. 
The MAX CPM100 Bepop thermal transfer desktop printer, sold exclusively by Wiremarkers Australia, is best-in-class. What makes it so popular in the NBN and telecommunications space is its versatility and ease of use. The printer, vinyl and ribbon are specified by Optus and Vodafone, and the vinyl and ribbon are verified by Telstra, to use for all vinyl labels. 
Free Smart Software
The printer comes with intelligent software that holds thousands of pre-made templates. Best of all, these templates are regularly added to by the Wiremarkers Australia team. Unlike most software of its type, updates are free and there is no subscription fee. 
The versatility of output from the Bepop printer means that it is often the only sign or label printer needed across various worksites. It prints and cuts vinyl labels quickly and in any shape or colour required.
Wrap around labels are perfect for cables that are curved, and the printer is also frequently used for coaxial and hybrid labels, various warning labels, feeder labels, danger labels, and many more.
One area where the Bepop printer and associated software really produces value is in the creation of cable flags, and how simple it makes the process. 
We all know the importance of cable or T-style flags, where larger amounts of data can be displayed on wire or cables with a smaller diameter, such as fibre optic cables, HV cables, etc. Pre-cut flag labels limit your size options, and require you to keep on hand multiple label sizes for different tasks.
The Bepop printer, through the provided software, not only allows you to create whatever sized flags you need, but it also calculates the correct size based on the cable diameter entered. This eliminates the chance of ill-fitting flags, misaligned data printing and illegible lettering.
The software is intuitive and simple to use. All templates are easily accessible making the entire label printing process a breeze. Just upload the data required for your label flags, enter the cable details, and the software goes to work. With the click of a button these labels are printed, cut, and ready to use.
Everything You Need
The Bepop printer is your one-stop-shop for most label printing. Along with custom-sized label flags and markers, it prints in full colour up to 100mm high by 2000mm long, which means it's perfect for creating most workplace signs. Again, there are many pre-made templates for these signs included in the software, or you can get creative and make your own.
High-quality adhesive vinyl labels made using the MAX Bepop printer not only look great, but can withstand the elements and harsh environments – the UV tolerance for labels using red and yellow colours is five years, and it's eight to ten years for all other colours. Wiremarkers Australia recommends only using genuine MAX vinyls and ribbons to ensure quality and to maintain the product warranty.
You can learn more about MAX printers here, or get in touch with the team at Wiremarkers Australia.