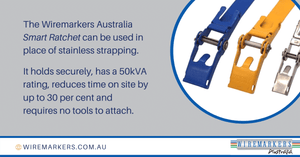 Stainless Strapping Upgraded
The Wiremarkers Australia Smart Ratchet can be used in place of stainless strapping. It holds securely, has a 50kVA rating, reduces time on site by up to 30 per cent and requires no tools to attach.
Anyone who has had to move a trailer full of furniture knows how handy traditional ratchet ties can be. The mechanism used to tighten fabric straps is well known to save time and produce a more secure hold than other tie-down methods.
The team at Wiremarkers Australia are always looking for inspiration when developing new products, and it was a visit to Japan for the Rugby World Cup in 2019 that sparked an idea for further use of the ratchet tie mechanism.
Throughout Japan, construction sites and completed buildings were using the device to secure all manner of objects — from traffic lights to antennas, as well as holding taut cables of various sizes. Of particular interest, was how these ratchet ties were attached with precision, speed and no additional tools. It was undoubtedly a concept with potential.
Developed for Australian Conditions
Upon returning to Australia, the Wiremarkers Smartmark developers worked on adapting the ratchet tie for widespread Australian use, and have now completed all quality and safety tests on their Smart Ratchet.
Unlike traditional ratchet ties, the Smart Ratchet can support tension in excess of 400kg and has been specifically designed for attaching items and cables. It has a 50kVA rating, making it safe to use in all electrical construction and telecommunications projects and worksites.

The Smart Ratchet is made from reinforced 304 stainless steel and is a highly versatile 800mm in length. It's now being used on Australian telecommunication projects and has reduced time on site by up to 30 per cent. Wiremarkers Australia's General Manager, Jarryd Crampton, says the device will improve efficiency and has multiple applications.
"We knew many of our clients were looking for a better way to attach and manage cables and antennas, and the Smart Ratchet solves several real problems for them. The 50kVA rating means it's appropriate for use across a range of projects," said Jarryd.
Versatile Use
In keeping with the highest standards possible, Wiremarkers Smartmark developers designed the Smart Ratchet to meet requirements in harsh environments such as electrical construction, telecommunications and mine sites.
As an alternative to stainless strapping, the Smart Ratchet comes ready to use without the need for additional tools. With bevelled edges and a secure ratchet clip, the chance of injuries is minimised.
Smart Ratchets are available in plain silver, or with a range of epoxy colour coating. The variety of sizes, in 800mm lengths, range from .2mm x 10mm to .4mm x 19mm and allow for use in numerous situations. The length can also be varied by request.
View the full range of Smart Ratchets HERE, or get in touch with the team at Wiremarkers Australia to discuss your needs.