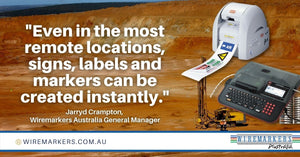 Supporting the mining industry with on-site sign and label printing
Signs, labels and cable markers form a small but vital part of the mining industry. Delivery times have always been challenging for mines in remote parts of Australia, but recent international complications have meant that delays for some items are never-ending.
Not all delivery disruptions can be avoided, but delays for signs and labels can be eliminated in many cases by printing these items on-site. Wiremarkers Australia sells a range of printers perfect for mine sites, the most popular being the SmartMark IDP 31S for ferrules, inserts, core markers and cable tags, the MAX Bepop for signs and labels, and the LM-550A Ferrule, Tube and Heatshrink Printer for fully portable and specific cable marking.
Wiremarkers Australia General Manager, Jarryd Crampton, said the ability to create signs, markers, tags, and labels on-site has become even more critical, with international deliveries becoming more unpredictable.
"With some preparation and being set up to print on-site, the stress of delivery unpredictability can be eliminated. Even in the most remote locations, signs, labels and markers can be created instantly," said Jarryd. 
Wiremarkers Australia also creates a range of signs, labels, and markers at their Queensland workshop, reducing delivery times exponentially given the quick and efficient printers that Wiremarkers use to produce. While ordering labels made to order is always an option, many people in the mining industry opt to purchase a printer to create these on-site.
Ferrule, Tube and Heatshrink Printing
The LM-550A2BH Ferrule, Tube and Heatshrink Printer is the perfect on-location portable printer for tube and tape printing. This printer is adaptable to a range of cable marking needs, and can print on PVC tubes sized between 1.5mm and 8mm, heat shrinkable tubes sized between 2mm and 6.5mm, 5mm, 9mm, or 12mm wide tapes, 4mm ID ferrules or 10mm cable tags. Printing options include both horizontal and vertical text.
This printer has taken convenience and adaptability to new levels with multiple input methods, including USB transfer, PC connection or direct entry using the inbuilt keyboard.
Unlike most printers that require connection to a power supply to work, the LM-550A2BH Printer can also function using standard AA batteries, meaning it can print anywhere. 
It's simple to use and keeps everything tidy by only cutting individual labels halfway through as they are printed. The printer has a large, backlit LCD display, making it easy to use, even in dimly lit worksites. It also boasts an impressive print speed of 40mm per second and comes with a hard case for protection on any site.
Sign and Label Printing
The MAX Bepop Thermal Transfer Printer is a favourite throughout many industries, including the mining sector. This best-in-class printer uses premium MAX ribbon and vinyl, and produces labels that consistently out-last their competitors. 
The high-quality adhesive vinyl has a UV tolerance of five years for red and yellow labels and up to ten years for all other colours. Additional UV block can extend the label to 15 to 25 years.
The Bepop prints full colour and has a 360-degree blade to cut to any shape and size (up to 100mm high by 2000mm long) from a single roll of vinyl. There's no need for multiple different label sizes. It has an efficient print speed of 25mm per second, and a 125mm per second cut speed. The printer is available in either 600 DPI or 400 DPI models, and the Wiremarkers Australia team can help you decide what best suits your workplace. 
Smarter Marking
The Smartmark IDP 31S Wiremarking Tag Printer is the most popular printer Wiremarkers sell to mine sites around Australia. Along with creating ferrules, inserts, core markers and cable tags, it is the most accurate and fastest printer for cable and wire identification with the ability to produce 15,000 15mm tags per day. It is the simplest printer to use with no software training needed due to Microsoft Excel being the means of printing.
This printer also prints in colour or black and white.
For more information about portable printers for signs, labels and cable markers, visit wiremarkers.com.au or get in touch with the team to discuss your needs.