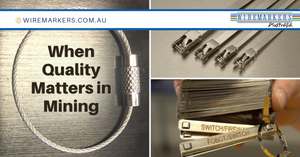 When Quality Matters in Mining
Safety, efficiency and quality all matter when it comes to mining. Wiremarkers Australia understands this, along with the high standards that apply in that sector, and offers a number of exclusive products proving popular in the industry.

Attaching tags to assets is made easy with our Stainless Steel Smart Rings. These come in both 1mm and 2mm thickness, and 100mm or 200mm lengths. They secure firmly with a screw mechanism and are made of Marine Grade Steel, with a 30 Year Design Life.
When a secure hold is needed, the Wiremarkers Australia stainless steel 4.6mm cable ties have a best-in-industry tensile strength of 106kg and last more than 30 years. These ties are all designed in-house and manufactured using purpose-specific moulds. They come in a range of sizes and widths, in colour coated or uncoated steel. Grade 304 and 316 steel is available to ensure you get exactly what you need.
Tags and labels in mining also need to be made to last. Wiremarkers Australia offers a range of solutions, including stainless steel cable markers and plates. These are made using grade 316 stainless steel and are cut and laser etched by our 7 fibre lasers in our Brisbane warehouse. This local etching means orders can be delivered quickly and accurately.

For on-site creation of plastic tags and vinyl labels, portable printers are a popular choice. Wiremarkers Australia offers some great solutions in this space.

The LM-550A Ferrule, Tube and Heatshrink Printer is perfect for the instant creation of printed tubes and tapes. This printer is adaptable to a range of cable marking needs, and can print on heat shrinkable and PVC tubes sized between 1.5mm and 8mm, and on 2mm, 6.5mm, 5mm, 9mm, or 12mm wide tapes, and ID Ferrule 4mm core markers, and 10mm PVC Tags. Printing options include both horizontal and vertical text.

The MAX Bepop Thermal Transfer Printer is an asset on many sites for its versatility in vinyl label printing. The printer has the capacity to print over 16,000 different colour variations with 400 DPI resolution.

The adhesive vinyl labels can be printed and cut to any shape (up to 100mm high by 2000mm long), and are printed at an efficient 25mm per second, with a 125mm per second cut speed.

This printer allows you to plug and print your own design, or choose from thousands of premade templates.
For more information on any of these products or to discuss your specific needs, get in touch with the Wiremarkers Australia team.