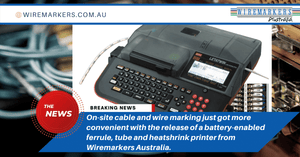 Wire Marking Made Portable
On-site cable and wire marking just got more convenient with the release of the battery-enabled Letatwin LM-550A2BH Printer from Wiremarkers Australia. This printer has all the features of the original LM-550A Ferrule, Tube and Heatshrink Printer, with the added bonus of being able to print without a wired power source. This fully portable printer is the first on the international market with this set of capabilities, and Wiremarkers Australia are the exclusive distributors for Australia and New Zealand. 
The LM-550A Printer is a popular choice for multiple labelling needs, primarily because of its ability to contribute to workplace efficiency and the consistently high-quality results it produces. Now with the option of battery use, ferrules and wire markers can still be printed as needed on all worksites, regardless of whether they're live or not. 
How the LM-550A2BH Printer saves time, money and effort
Easy Data Input: Upload data from a spreadsheet via your PC and print using a USB cable, transfer data using a USB flash drive, or enter information directly into the printer using the inbuilt keyboard.
Adaptability: Get multiple uses from the same printer with its ability to print various marking media and sizes. It can print on PVC tubes sized between 1.5mm and 8mm, heat shrinkable tubes sized between 2mm and 6.5mm, and 5mm, 9mm, or 12mm wide tapes. The versatility continues with printing options including both horizontal and vertical text. 
Fast Results: Create around 52 pieces of 20mm length tube each minute using this printer. Its enhanced feeding system allows for an impressive marking speed of 40mm per second. 
Quality and Accuracy: Misprints are rare and wastage is kept to a minimum due to the superior quality of the printer and consumable components.
Simplicity: Individual labels are only cut halfway through when they are printed, ensuring they stay in order and are easy to access. The printer has a large and backlit LCD display making it easy to use, even in dimly lit worksites.
Upgraded Portability: While the printer can connect to your PC for printing, it also works independently and comes with a sturdy plastic carry case for easy transportation — either connect to a power supply or use AA batteries for the battery enabled version, then start printing. This means any additional labels unexpectedly needed on-site can be sourced immediately.
The LM-550A2BH Printer is popular in a range of industries that require accurate cable marking, such as telecommunications for fibre optics, switchboards and NBN installations. It's also used on mine sites to ensure immediate and accurate labelling of wires.